Nuestro amigo Antonio Collados, Coordinador de proyectos de AAABIERTA, nos recuerda la guía publicada en el 2005: Framing the Artists. La representaciones de artistas en películas y televisión. Y que podemos encontrar en http://www.temporaryservices.org/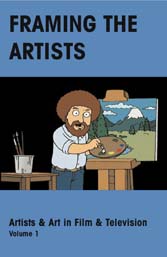 Framing the Artists - Populism, Various locations: Contemporary Art Center,Vilnius, Lithuania; Stedelijk Museum, Amsterdam; Frankfurter Kunstverein, Frankfurt, starting April 9, 2005.
We made the first in a series of guides – download below – to depictions of artists in films and television shows. In addition to the guide, we have produced a video of clips cullled from various sources that show these depictions. Both the guide and video are presented as a part of the Populism series of exhibitions.
Bajar: Framing the Artists – Artists & Art in Film & Television, Volume 1 (3.7 mb)
Tags: Consumidor, Documento, Identidad, Información, Interpretación, Negociación, Presentación, Provocación, Visibilidad

Comentarios de los lectores
¿Si quieres comentar?